Stuart City
Stuart City Hall is located at 121 SW Flagler Avenue, Stuart, FL 34994.
Phone: 772‑288‑5300.
---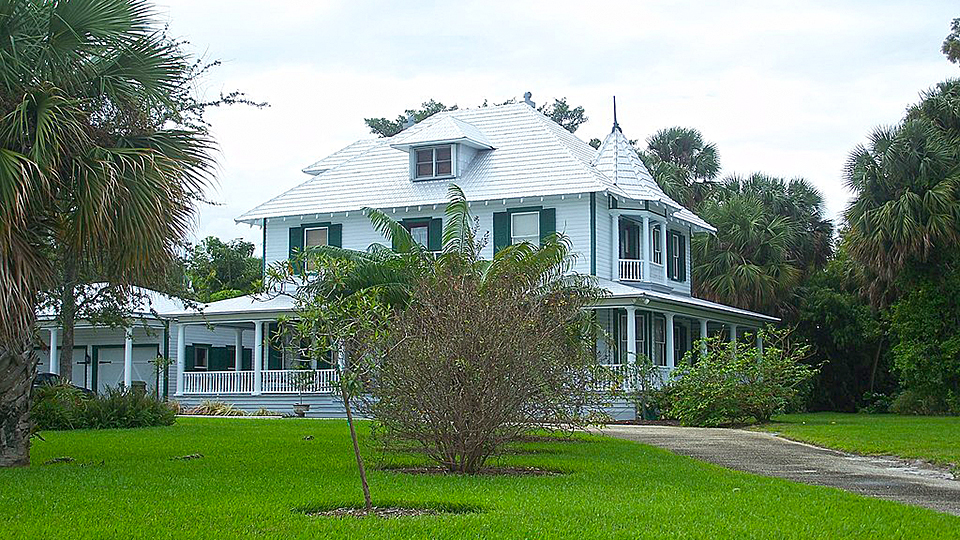 Photo: Krueger House (Burn Brae Plantation), circa 1894, 1located at 170 South East Ocean Boulevard, Stuart, FL. Listed on the National Register of Historic Places in 2002. Photographed by User:Ebyabe (own work), 2010, [cc-3.0], via Wikimedia Commons, accessed August, 2021.
---
Originally named Potsdam by Otto Stypman, who settled here about 1892; Stypman and his brother Ernest hailed from Pottsdam, Germany. When the Florida East Coast Railroad was built through the area, the name was changed to Stuart for Homer Hine Stuart, another early settler. The town borders the St. Lucie River. Stuart, the seat of Martin County, was incorporated in 1914 and chartered as a city in 1925. [City of Stuart, Sailfish Capital of the World,, www.cityofstuart.com, accessed December, 2013]
Neighborhoods
Angler Cove Condos
Atlantis Condos
Bay Colony
Bay Shore Village
Bayview Condos
Beau Rivage
Beau Rivage Estates
Boggans
Brook Villas
Brownings
Buttonwood Condos
Cabana Point
Carribean Key
Castle Hill
Cedar Pointe
Chelsea
Cinnamon Tree
Circle Bay Yacht Club Condos
Civitas
Conquistador Estates
Cooley Island
Coral Gardens
Coral Lakes
Courtyards at Willoughby Condos
Cove Isle
Crestwood
Crestwood Condos
De La Bahia Condos
Dixie Park
Duckwood
Edgewater Villas Condos
Eldorado Heights
Emerald Lakes
Estates at Stuart
Eventide North River Shores
Fairmont Estates
Fairway Palms
Fairway Villas Condos
Farway Palm
Fishermans Cove
Fishermans Village Addition
Florida Club Estates
Fork River
Four Winds On The River Condos
Foxcross Condos
Foxwood
Frazier Addition
Galleon Bay
Gardens at Poppleton Creek
Glenridge
Golden Gate
Gregor Woods
Hansons Landing
Harbor Estates
Harborage Yatch Club
Hibiscus Park
Hidden Harbor Condos
High Point
Highlands Addition
Hildabrad Park
Hisbiscus Park
Hummingbird Place
Hutchinson House East Condos
Hutchinson House West Condos
Indialucie
Indian Groves
Indian Pines Condos
Inlet Harbor
Inlet Isle
Inlet Village Condos
Inlet Village North Condos
Ironwood
Islander Condos
King Mountain Condos
Kingman Acres
Kingswood Condos
Krueger Park
Lake Tuscany
Lawn Lake
Lawrence
Legacy Cove
Lexington Lakes
Little Ocean Club Condos
Little Ocean Place Condos
Live Oak Estates
Locks Landing
Lost River Cove
Lost River Manors
Manatee Bay
Mariner Cay Condos
Mariner Sands
Mariner Village
Mariners Landing
Martin Meadows
Martins Crossings
Meadowbrook Court
Miles Grant Condos
Mobile Home Gardens
Montego Cove Condos
Murray Cove
Natalie Estates
New Monrovia
North River Shores
Ocean Isle Condos
Ocean Terrace
Ocean View
Palm Lake Park
Parkview Condos
Parkwood
Pierpoint Yacht Club Condos
Pine Knoll
Pine Manor
Pinelake Gardens And Estates
Pinewood Park
Plantation at Sewalls Point
Port Salerno
Port Salerno Village
Port Sewall
Queens Park
Rainbow Cove
Resort Villas Condos
Rio Vista
River Forest
River Glen
River Marina
River Pines
River Point
River Village Condos
Riverwood Condos
Rocky Point
Rocky Point Estates
Rocky Point Highlands
Rose Walk Estates
Ruffs Little Dixie Addition
Rustic Acres
Sailfish Point
Salerno Shores
Salerno Small Farms
Sandpebble Condos
Sandy Ridge
Sarita Heights West
Schooner Oaks Condos
Seascape Condos
Sewalls Point
Sherwood Forest
Shore Village
South Fork Estates
South River Colony
South River Village
Southern Pines
Southwood
Spinnaker Point
St Lucie Estates
St Lucie Falls
St Lucie Inlet Farms
St Lucie Point
St Lucie Settlement
Stuart Cay
Stuart Snug Harbor West
Stuart West
Stypmanns Park Addition
Summerfield Golf Club
Sunshine Parkway Manor
Suntide Condos
The Plantation
Tierra Verde Condo 04
Tierra Verde Condos
Towne Park
Trailside
Tropical Estates
Tropical Paradise
Twin Lakes
Twin Lakes South
Vilabella
Village Of Stuart Condos
Vista Del Lago Condos
Vista Pines Condos
Vista Salerno
Whitemarsh Reserve
Wildwood Estates
Willoughby
Willoughby Crescent
Willoughby Glen
Windjammer Condos
Woodmill Pond
Woodridge
City of Stuart as described in 1939 [1]
Stuart is important for its fishing grounds. Shark fishing is a profitable occupation here. All varieties of tiger-shark, sand, nurse, hammerhead, and shovel-nose are sought for their flesh, hides, teeth, bones, livers, fins, and eyes, the lens of which are crystallized and sold to a large market as insets for rings. Barreled in ice and shipped to extracting plants, shark livers yield from 2 to 14 gallons of oil, with higher vitamin-A content than cod liver oil. The tough thick hides are soaked in brine, tanned, and manufactured into novelties. The fins are shipped to China, where they are relished as a delicacy when properly aged and pickled. The flesh is chopped up and utilized as fertilizer.
Sea gulls assemble at the railroad bridge whenever passenger trains are due, impatient to pounce on scraps thrown from the dining cars. Long before a train is sighted by human eyes or before a whistle sounds, the gulls begin to assemble as if familiar with the timetable; freight trains are ignored.
South of Stuart the route traverses extensive sawgrass marshes criss-crossed by drainage ditches, their banks lined with cattails and willows; it bisects pine and palmetto flatlands scarred by fire, and proceeds through another marshy area, the haunt of white and blue herons, which stand in lagoons or roost in the tops of bushy mangroves. Crossing rolling sand dunes, white in the sun, the highway runs along the Intracoastal Waterway, fringed with cabbage palms and mangroves.
Federal Works Agency, Works Progress Administration, Federal Writers' Program, Florida: A Guide to the Southernmost State. American Guide Series, Florida Department of Public Instruction, 1939.
---