Demopolis City
Demopolis CIty Hall is located at 211 North Walnut Avenue, Demopolis, AL 36732.
Phone: 334-289-0577.
---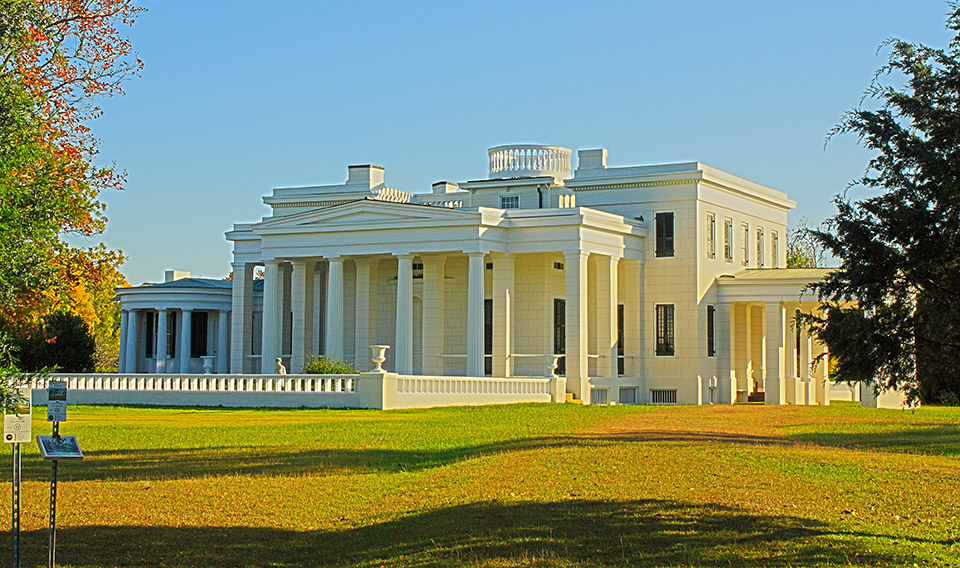 Photo: Gaineswood, built over the period circa 1843-1861, located at 805 South Cedar Avenue, Demopolis. Listed on the National Register in 1972. Designated a National Historic Landmark in 1973. Photographer: wikipedia username: Altairisfar, 2011, [cc-3.0]; accessed September, 2022.
---
Neighborhoods
Briarwood
Demopolis Historic District
Gainswood
Demopolis [†] is located in Marengo County, in the fertile Black Belt region of westcentral Alabama. It was settled in 1818 by a group of 300 French refugees, who deserted the community within a year after learning that they had settled on the wrong tract of land. A group of Americans then occupied the site, and in 1819 they mapped the town in the north-south grid pattern that has been maintained to the present. Located at the confluence of the Warrior and Tombigbee rivers, Demopolis quickly emerged as a significant trading center during the ensuing plantation era. A number of antebellum structures remain in the town, though none of them are located in the business district.
By the 1880's, the South had recovered from the economic unrest of the Civil War and Reconstruction years and entered a period of prosperity which lasted until the 1929 depression. The return of "good times" to Demopolis was evident by 1885, when the town enjoyed regularly scheduled steamboat and railroad transportation systems and the recently installed electricity and water works. More important, though, was the great change in the physical appearance of the downtown area during the two decades preceeding the turn of the century. Thirty-one buildings, forming the bulk of the historic district, remain from the period between 1880 and 1889. Generally characterized by their ornamental elements or their impressive size, they represent the ongoing significance of this rural community as a trading center and the Victorian period's tendency toward extravagance.
† Sally Moore, Alabama Historic Commission, Dempopolis Historic District, nomination document, 1979, National Park Service, National Register of Historic Places, Washington, D.C.
---